Banking & Financial Analytics with Graph Database
Transform Financial Services with Graph Databases and AI

Advanced Analytics in Graph Databases Can Uncover Patterns of Financial Fraud
Tame the
Rising Costs

of Payments Fraud in Financial Services
Every dollar of payment fraud costs eCommerce merchants and banks 3.36 dollars in fees, interest, merchandise replacement and redistribution. As consumers choose to spend more time at home (especially during COVID-19 pandemic) and shop online exclusively, card-not-present fraud is increasing rapidly, with monthly successful fraud attempts going up 43% – 48% for mid-to-large sized retailers in the US. Worldwide retail industry has seen a similar rise in online payment fraud.
Find Patterns of Fraud

in Connected Data
Traditional fraud analytics solutions can't detect bulk of the online payment fraud, as they can't find complex payment fraud patterns with 6 or more connections or hops linking current payment to historical fraudulent activity. First and second generation graph databases can't go beyond 3 hops in real-time. Native parallel graphs such as TigerGraph are purpose-built to find these patterns going 6 or more hops into the connected data and stop fraudulent transactions in real-time.
Legacy Approaches

Are Insufficient at Identifying Influencers
Finding influencers on social media is well understood and there are many tools that can identify the hubs, characterize the communities or audience attached to each hub and rate the relative value of each community for marketing purposes.
For complex products such as new pharmaceutical drugs, equipment, or healthcare treatments, identifying hubs of influencers among physicians and other healthcare providers requires deep analysis of patient claims data to uncover referral relationships. Analytics systems built on relational databases require expensive joins among large tables containing prescriber, claims and patient data – it can take hours, sometimes days to complete the database joins and that makes traditional analytics solutions unsuitable for this type of analysis.
Improve

Credit and Regulatory DataRisk Assessment and Monitoring with Enterprise Knowledge Graph
The US Treasury Department of Office of Foreign Assets Control (OFAC) has issued record fines in 2019 totaling up to 1.3 billion dollars. Banks all over the world are struggling to vet every account and each payment passing through its network to maintain regulatory compliance and avoid penalties.
Traditional solutions aren't up to the task, as the risk assessment and monitoring solution requires combining and linking across all of the internal data about each account with external data sources as politically exposed persons (PEP) database and sanctions database such as those offered by World-Check from Refinitiv and OpenCorporates. TigerGraph provides analytics for risk assessment and monitoring going wide across internal and external datasets to find and flag connections with sanctioned entities. TigerGraph also finds potential money laundering rings and other suspicious activity.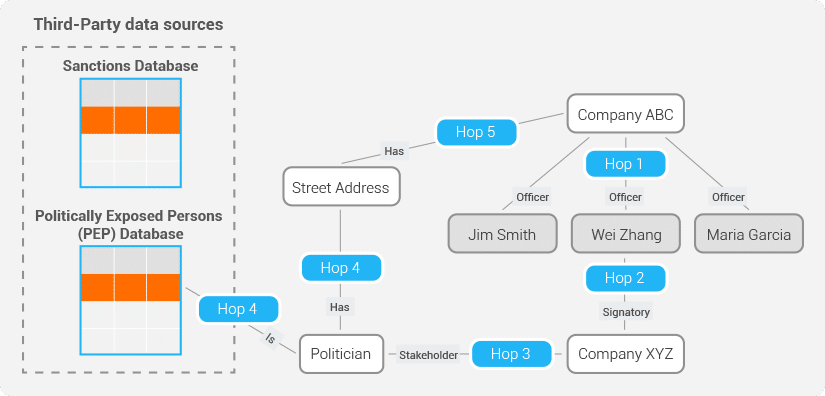 Deliver

a Real-time Customer 360 Across All Touchpoints
The competition for financial services is heating up. Amazon introduced a credit card for the 'unbanked' in June 2019, while Apple introduced Apple Card in August 2019. Google followed on its heels in November 2019 with the announcement of project Cache offering checking accounts for consumers in 2020. Facebook has also thrown their hat in the ring, with the Libra crypto currency in June 2019 and Facebook Payments in November 2019.
All of this means that now, more than ever the financial services organizations need to tap into their core asset – customer data. Data warehouses and data marts have consolidated the customer data. TigerGraph taps into as many as 50 or more datasets, connecting the entire customer journey across all channels. TigerGraph also allows customer service, sales, marketing and other client facing employees to find similar customers in real-time and create recommendations for cross-sell, up-sell as well as for churn prevention.