Nov 2022:  TigerGraph Cloud Update
With the mission of building the most user-friendly graph-as-a-service that unlocks smarter insights for all, our product and engineering teams at TigerGraph have been working hard to elevate TigerGraph Cloud to the next level of ease-of-use and enterprise readiness.
In this blog, we'll briefly walk you through some of our brand new tools and latest improvements in TigerGraph Cloud.
TigerGraph Cloud Makes It Easier to Get Started with Graph
In the November 2022 TigerGraph Cloud release, we streamlined the cluster provisioning and management experience. Create a new cluster in a few clicks, and get started with a graph in a few minutes.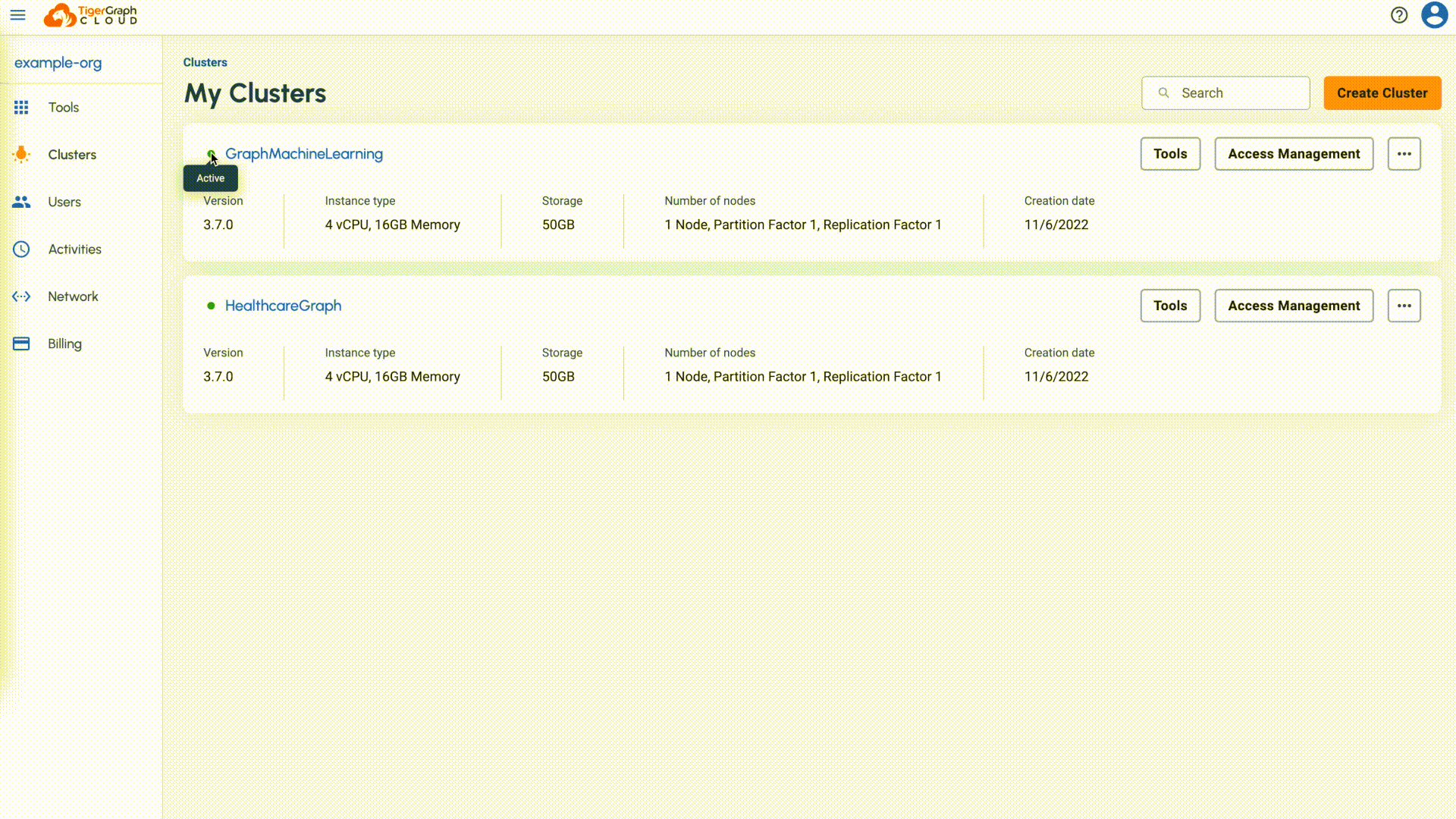 Graph for All: Introducing TigerGraph Suite
With the integrated experience of the existing GraphStudio and the addition of the brand new tools, TigerGraph Cloud enables frictionless collaboration among graph database developers, administrators, data analysts, and data scientists to maximize the full potential of TigerGraph's graph database platform:
GraphStudio: visual integrated development tool for

graph database

developers
GSQL Shell: command line tool for graph query developers
GraphQL gateway: service integration tool for application developers
AdminPortal: user management, system administration, and monitoring for the DevOps team
TigerGraph Insights: visual graph analytics tool for data analysts and non-technical users
Machine Learning Workbench: graph machine learning tool for data scientists
Users can easily switch between these tools while they are working on a particular graph database cluster.
TigerGraph Insights
We are announcing our brand new graph visualization and analytics tool – TigerGraph Insights on TigerGraph Cloud! TigerGraph Insights equips data analysts with compelling visual graph storytelling capabilities to showcase underlying graph data and insights in a variety of visual representations, including network graphs, tables, charts and more. These multidimensional and interactive visual views can be linked together into a cohesive multi-page interactive dashboard application, which can be easily shared to allow people to get deeper insights into your connected data.
Some high-level features of TigerGraph Insights include:
Intuitive visual graph exploration and pattern searching.
Interactive graph analytics: graph neighborhood exploration, pathfinding, PageRank, and community detection.
Graph travel with attribute filtering.
Interactive graph BI dashboard building and sharing.
Read more about TigerGraph Insights
Machine Learning Workbench
We are integrating our graph machine learning tool for data scientists – TigerGraph Machine Learning Workbench with TigerGraph Cloud! TigerGraph Machine Learning Workbench is a graph machine learning toolkit for data scientists to create machine learning models enriched with 55+ graph algorithms computed by TigerGraph's massive parallel graph database platform. Models built with Machine Learning Workbench are proven to be more accurate and effective than traditional machine learning approaches by incorporating state-of-art graph neural network capabilities.
Read more about Tigergraph Machine Learning Workbench
Enabling More Graph Users with Ease of Use and Enterprise Readiness
Graph is the best tool that empowers you to connect data silos from different sources and conduct deep link analysis. In the new GraphStudio release, we start supporting connecting to data sources from all 3 public cloud vendors and loading data directly from your S3, Google Cloud Storage, and Azure Blob Storage.
We are constantly improving the enterprise readiness of our product. A critical part of that is to provide better tooling for the DevOps team to manage your graph system. With workload management support in our latest AdminPortal release, you can manage the query workload by watching the performance of all running queries and aborting the ones that take too long or consume too many resources.
TigerGraph's product and engineering team relies on your feedback to help us improve and prioritize. Please share your feedback in our community forum. If you are already our customer, please reach out to your Customer Success Manager for questions or feedback.
Get started with TigerGraph Cloud today for free. No credit card is required.